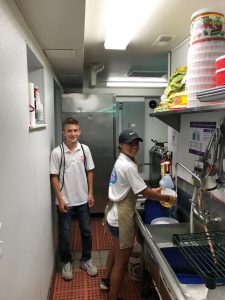 Prior to completing the employment application, it is important to understand that The Margate Dairy Bar is serious about creating a positive and productive working environment for our staff and maintaining the highest levels of quality, customer service and professionalism for our customers.
We want you to understand that we also believe in living our values, some of which are:
We believe that good enough isn't.
We believe in honesty and integrity.
We believe in doing business is a professional and orderly manner.
We strongly believe that only a happy and professional staff can give the level of customer service that we demand.
We believe in conducting ourselves in a professional manner.
We believe in the development and ongoing training of our staff. We view this as an investment in the future of the company.
We believe in providing outstanding service. Service so unique, so powerful, and so attentive that our customers tell stories about it.
We believe there is no "I" in team.
We believe that every staff member is capable of being an A+ player.
If this feels like an environment for you, please complete the application.
We are NOT INTERESTED IN EMPLOYEES WHO WILL ONLY WORK WEEKENDS.